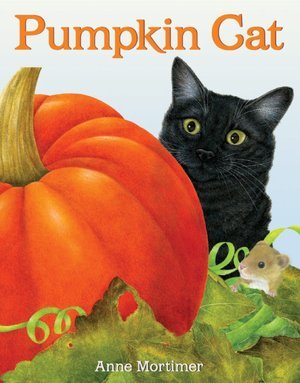 Pumpkin Cat
Anne Mortimer, Author and illustrator!
Katherine Tegen Books, an imprint of HarperCollins Publishers, 2011
In this book a black cat (like me!) wonders how pumpkins grow. A little brown mouse shows him how. The plant the seed in a pot, then later, they plant them outside. As the weather warms and the plants grow the cat and mouse watch as the bees pollinate pumpkins, build a scarecrow to keep the crows away until, finally it is time for harvest. The big beautiful orange pumpkin is chosen and mouse has one more surprise for cat: he carves it into a jack-o-lantern (with a cat face, of course!) and wishes everyone a Happy Halloween.
The illustrations are wonderful; another Anne Mortimer beauty. The text is easy for early readers and the story is entertaining as well as educational. Be warned: if you read this book in spring, you'll find yourself wanting to plant pumpkins!
I first posted this review in January, 2015, but I'm going to be posting a number of Halloween books this month so I thought I'd start out with this one. 
Rating: 
Reviewer:  Simon, A True Halloween Cat