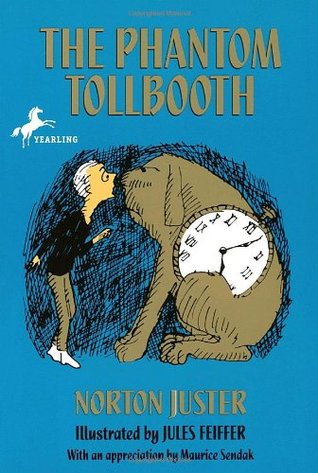 The Phantom Tollbooth
Norton Juster
Illustrations by Jules Feiffer
A Borzoi Book, Alfred A. Knopf, 1961,1996
 This childhood classic was first published in the 1960s. It is the story of a boy named Milo who is exceedingly bored with his life. There is nothing to do, nowhere to go, nothing to see. He gets home from school one day to find an assembly-required tollbooth in his room and it actually piques his interest – a bit. Since he hasn't anything better to do, he puts the tollbooth together, gets in his little car and goes through, after paying his toll, of course. He ends up in a fantasy world filled with all kinds of characters, goes on an adventure and finally returns home with a new appreciation of his own life and the life of the world around him.
Milo journeys through the tollbooth into the Land of Expectations on his way to the city of Dictionopolis. He meets the Whether Man, loses his way in the Doldrums, and is rescued by the Watchdog (a large dog with a huge pocket watch for a body). When Milo and Watchdog make it to Dictionopolis, where letters are most important, they find out the land is in disarray because of warring brothers (letters versus numbers) and the banishment of their sisters, Rhyme and Reason. Milo sets about to bring harmony back to the world and finds meaning in his life doing so.
 Even though this book is a childhood classic, has won numerous awards and critical praise, I didn't like the book. It is wonderfully imaginative but the author tries too hard to make his point that education is a good thing. Speaking as a feline with more than a few years under his belly furs and, having not read the book as a kitten, I found the absurd logic to be too absurd. I felt like a goose being force fed to fatten up my liver, or in this case, to fatten up my brain. The book has been frequently compared to Lewis Carroll's Alice in Wonderland because of its craziness and I did try to watch Disney animated version of Alice but I couldn't stand the nonsensical madness of it either and so maybe this brand of inane nonsense just isn't for me.
Rating:
Reviewer: Toby
Norman Juster
Jules Feiffer
Milo and his car
Humbug
Milo and the Watchdog