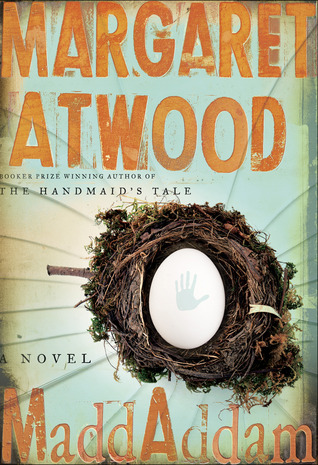 MaddAddam
Margaret Atwood
Nan A. Talese/Doubleday, an imprint of Random House, Inc., 2013
This is the final chapter in the MaddAddam trilogy – Toby has rescued Ren and Amanda and they've moved into the MaddAddam cobb house along with the remaining scientists from Crake's brain trust – the ones who created the Crakers. The Crakers are there, too, because they have no concept of man's inhumanity to man – and two of the Painballers are still out there, anxious to spread their violence and fear. Jimmy aka Snowman is there, too, but he lingers between life and death with his infected foot. Zeb still searches for Adam One and the Crakers look to Toby to tell the story of their creation and of their world.
The book is written, like the others, in flashbacks – plus in storytelling form. The Crakers want to know the story of their new hero, Zeb, so Zeb tells Toby his story and then she modifies it into simplistic terms for the new humans. She also teaches one of the young boys, Blackbeard, how to read and write and instills in him the necessity of writing history down. In the end the final story is told by Blackbeard, now a man, shares the life of Toby and Zeb.
I enjoyed this book more than the others because although it ends on a sad note, the mood is over all hopeful and life affirming. Babies are born, some characters die, new friendships are forged, and there is a promise of a future human race, hopefully more gentle than the one just past.
Rating:
Reviewer: Toby
   Margaret Atwood