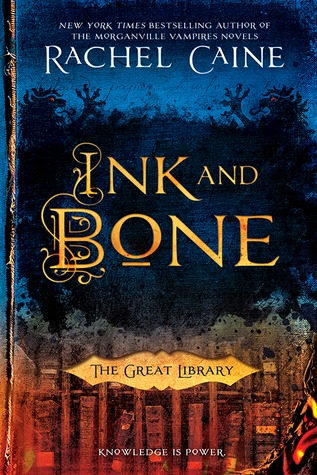 Ink and Bone, Book One of the Great Library Series
New American Library, Penguin Group, 2015
The book is set in the year 2025 but due to the Great Library's influence (read: Overlord) technology is more like that of the late 19th century to early 20th century – think steampunk combined with alchemical magic and you get the idea. The Library's belief is that "Knowledge is Power" and they believe books (knowledge) are far more important that human lives. The Library withholds information vital to the advancement of people and nations in order to hold on to that global power.
Main Characters:
*Jess Brightwell, 16 year old son of a black market bookseller in London, is sent to learn the ways of the Library in order to report back to his father its goings on. Jess is frequently used by people for their own means – his father, Scholar Wolfe, Morgan and ultimately the head of the Library itself. As a result he is cynical but street smart, a skill that saves his life on more than one occasion.
*Morgan Hault, a young woman from Oxford, England and trying to outrun her fate as an Obscurist and the Iron Tower of Alexandria where she will be enslaved and forced to work the alchemical magic the Library depends on.
*Thomas Schrieber, from Berlin, Germany; a brilliant inventor and engineer – so talented that the machine he creates may get him killed.
*Scholar Christopher Wolfe, a difficult taskmaster at best to the postulants of The Great Library, educates them in the ways of the Library and will ultimately decide who will be granted one of the few available posts within the Library. His rock hard exterior hides deep, hurtful secrets and a hatred of those he serves.
*Captain Niccolo Santi, part of the High Garda, or, Library soldier, assigned to protect the postulants and Wolfe on a dangerous mission.
Secondary Characters
*Dario Santiago, Spanish elite, he and Jess are at odds from the beginning.
*Khalia Serif, an Arab from Morocco, the only person who has ever received a perfect score on the entrance examination
*Glain Wathen, Welsh, all legs and arms, made for the High Garda branch of the Library
My first thoughts of this book was disappointment and I really don't like to be disappointed in a book – it makes me feel like I wasted my time. I had issues in these 4 areas:  
       1. I wasn't at all persuaded Jess was a young man of 16! It's in the way he is written – I can't put my paw on exactly what it is but his male gender is unconvincing. I kept imagining him as a strong-willed young woman and I don't think that it's a good thing when your main character is unable pull off his or her gender. Even the name "Jess" is ambiguous. If, from the beginning, the name was "Steve" or "John" or some other obviously male name, then it would have helped me get past this androgynous character. I liked Jess, but not his ambiguity. I like my male characters to be MALE and my female characters to be FEMALE.
2. Imagine my surprise to find this book to be like the recent dystopian novels we've have read. Having read several novels recently that have been quite depressing in their view of the world, I was not a happy camper when I realized the tone of this one. I was looking forward to a grand adventure story and this one wasn't it. This disappointment isn't on the author – it's entirely on me and my opinion. This book is the first in The Great Library series but I will probably not read any more of them. It ended so sadly, definitely a cliff hanger but without much hope.
3. There was a lot of bloodshed and quite a few of the characters died through violent means. Another personal choice – I don't typically read books where so many people, both strangers and named characters die. The last time that happened was in Harry Potter and the Deathly Hallows but I enjoyed the book and the whole series so much more than this book that I was able to overlook the death of favorite characters.
4. All of the postulants (students vying for Library service) came from around the globe – literally – not only the ones mentioned above, but also  America, Portugal, Japan were the other countries mentioned. It felt like the author was trying too hard to be politically correct by including all races and faiths.
What I liked about the book: It was about books and the need to preserve them in original printed form. In Jess' world you could read any book you wanted through a "blank" – sort of like an e-reader. Books in their original, hand-written form were incredibly rare and valuable – so much so that the Library grabbed up all they could find and what they couldn't get their hands on was traded on the black market through illegal bookrunners.
Rating: 2 out of 5 paws because the story concept is good, but there were just too many negatives to outweigh the positives.
Reviewer: Toby
Rachel Caine
Another Cover