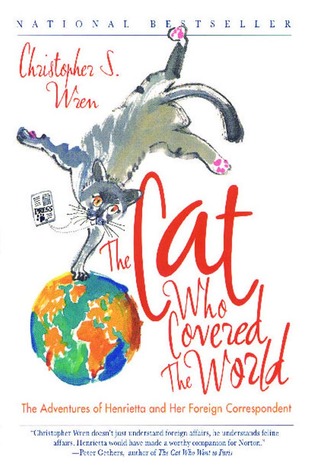 The Cat Who Covered the World
The Adventures of Henrietta and her Foreign Correspondent
Christopher S. Wren
Orion Books, Ltd, 2000
This is the true story of a cat that traveled all over the world with her foreign correspondent family for 17 years!
MAIN CHARACTERS:
• Henrietta Meow Meow Pussycat Wren, part pedigreed Siamese, part Heinz 57, with ". . . her fur was shaded a definite gray, but with brindled hints of brown and the faintest tiger striping down her back and sides. She looked noble in profile, having inherited the trim Siamese features of her mother. She was petite, from her dainty nose and whiskers down to an elegant tail. Even fully grown, Henrietta never weighed more than 8 pounds." Pg 10-11
• Chris, the correspondent
• Jacqueline, his wife
• Celia & Chris, their children
PLACES HENRIETTA ADVENTURED:
• New York – Kitten Henrietta arrived on the correspondent's doorstep in a box and with a bottle of Scotch on Christmas day. After a short stay, she moved with her new family to:
• Moscow – and while in that fair city, Henrietta accepted bribes of sturgeon and cabbage from Russians who expressed their hatred of Communism, consorted with foreign diplomats and Russian dissidents, committed sabotage by peeing on a Soviet-owned industrial crane, and regularly went through the trash cans outside of many foreign embassies. Is it any wonder that the Soviet Union collapsed shortly after she spent 4 years there? Henrietta's next adventure was in:
• Rome – a brief, week-long stop over on the way to her new assignment, this fair city offered Henrietta a short bit of freedom as she slipped her collar and ran off into the Italian hills. Thankfully, she allowed herself to be captured so the family wouldn't have to proceed without her to their next assignment in:
• Cairo – wherein, shortly after her family's arrival, Henrietta took off to explore her new home and promptly got lost for a month. By the time she made it home she was malnourished and in bad shape. Her humans nursed her back to health and in three years time she was ready to start another new adventure in:
• Beijing – but before that her human had to go back to England for a year so they sent her to:
• New York by way of Paris – where Henrietta flew to New York all by herself! She lived with human grandmother until it was time to fly again. This time her humans came for her and headed to Los Angeles, where she escaped her travel box and ran free through the airport; then on to:
• Tokyo – where poor Henrietta was denied the basic luxuries she was used to when traveling and ended up in the hotel basement in a metal cage when the hotel management refused to allow her to stay with her humans in their room. Finally, after several days of imprisonment, Henrietta was released and, again, finally off to:
• Beijing – (after all, it had only been a year since they first set out for the Far East!). She was not allowed to go outside as, at that time, the Chinese were known for killing cats and using their fur for various items and serving them for dinner (OH! The HORRORS!) But she was nonetheless happy in her apartment. Three years later she set off for
• Ottawa and New York – In Ottawa it was discovered that Henrietta was allergic to commercially made cat food – having lived 13 years overseas on an organic and natural diet, commercial food gave her the itchies. She didn't stay long in New York, having the travel bug so she and her family moved to:
• Johannesburg, South Africa – After stopping off in Lisbon for a glass of milk, Henrietta proceeded on to Johannesburg where at one point she got lost in an air freight terminal and her humans had to beg for her freedom. Sadly, inevitably, Henrietta finished her adventuring in South Africa. She died at the very old age of 18 and left behind her sad human family.
I very much enjoyed globe-trotting with Henrietta! It was wonderful to read of humans who love their cat so much that they would carry her all over the world rather than do as so many others do and just abandon their pets. And, it was good to see a non-liker of cats transform into a can't-do-without-my-cat person!
Rating: 4 paws out of 5 because of the love between a human and a fellow feline.
I read this book as a part of the Summer Reading Challenge, 2015, the category of: Read a book set in another country. I think this one 'jolly-well fits the deal' since it takes place in 8 countries!!!
Reviewer: Jack
Christopher S. Wren