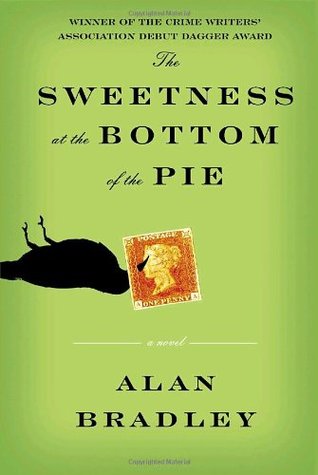 The Sweetness at the Bottom of the Pie
Alan Bradley
Delacorte Press, Bantam Dell, a division of Random House, 2009
This is the first in a series of mystery novels centering around an eleven-year-old girl named Flavia who absolutely loves chemistry. The setting is in the 1950s English countryside. The book opens with a mystery almost right off the bat – a jack snipe (black bird) is found dead on the back steps with a postage stamp pierced on its beak. A few hours later a man is found dead in the family's cucumber patch and Flavia is off and running to solve the mystery!
MAIN CHARACTERS:
• Flavia de Luce, the youngest of three girls, forever locked in a battle of comeuppance with her two older sisters. She is really the only main character, unless you want to include her bicycle, Gladys. She figures the whole mess out on her own – at least without a sidekick!!
SECONDARY CHARACTERS:
• Colonel de Luce, Flavia's father, who after losing his wife Harriet in childbirth has secreted himself away in his study, absorbed in his stamp albums (stamps figure heavily in the mystery).
• Dogger, handyman on the farm, knows more than he is saying
• Inspector Hewitt, Police Officer conducting the investigation into the murder
• Horace Bonepenny, the man who was murdered.
• Frank Pemberton, a man who is supposedly writing a book on the country houses of England, but something about him bothers Flavia's and she doesn't figure it out until its' too late
• Ophelia, the oldest of the three, also called "Feely,"; she's all about boys and makeup
• Daphne, the middle sister, also called "Daffy,"; her nose is in a book at all times
The book was good – I always enjoy a good romp through the English countryside! The mystery is well laid out with plenty of clues and I like how it slowly wound down, where the mystery is explained over a series of chapters so the reader can figure it out and see if they were right. I liked how the relationship between Flavia and her sisters is portrayed; it needs a bit more fleshing out, but that probably happens in the following books. The main stumbling block I had was the references to chemistry – there are a lot of them. I know chemistry is integral to Flavia's character so it would be natural for her to think along those lines. However, not given to chemistry myself, I found all the science talk a bit too much.
As I mentioned before this is the first of a series of Flavia mysteries and normally we would read them all back to back; however since we are in the midst of the Summer Reading Challenge, we'll have to get back to the series later. On the Summer Reading Challenge bingo sheet, this is logged under "Read a Mystery."
Rating: 3 out of 5 paws for being a good story but I wasn't emotionally invested in characters.
Reviewer: Piper
Alan Bradley
Other covers:
Other Flavia de Luce Mysteries