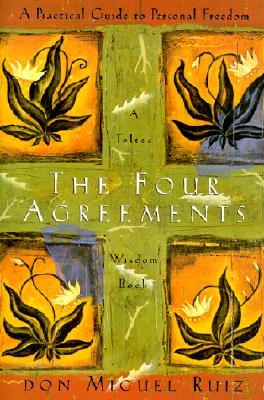 The Four Agreements,
A Toltec Wisdom Book
don Miguel Ruiz
Amber-Allen Publishing, 1997
Introduction: Toltec knowledge arises from the same essential unity of truth as all the sacred esoteric traditions found around the world. Thought it is not a religion, it honors all the spiritual masters who have taught on the earth. Pg x
Chapter 1: Domestication and the Dream of the Planet: As children, we didn't have the opportunity to choose our beliefs. . . . Pg 1
Chapter 2: The First Agreement: Be impeccable with your word. Speak with integrity. Say only what you mean. Avoid using the word to speak against yourself or to gossip about others. Use the power of you word in the direction of truth and love. Pg 27
Chapter 3: The Second Agreement: Don't take anything personally. Nothing others do is because of you. What others say and do is a projection of their own reality, their own dream. When you are immune to the opinions and actions of others, you won't be the victim of needless suffering. Pg 51
Chapter 4: The Third Agreement: Don't make assumptions. Find the courage to ask questions and to express what you really want. Communicate will with others as clear as you can to avoid misunderstandings, sadness, and drama. With just this one agreement, you can completely transform your life. Pg 67
Chapter 5: The Fourth Agreement: Always do your est. your best is going to change from moment to moment; it will be different when you are healthy as opposed to sick. Under any circumstance, simply do your best, and you will avoid self-judgment, self-abuse, and regret. Pg 81
Chapter 6: The Toltec Path to Freedom: The freedom we are looking for is the freedom to be ourselves. But if we look at our lives we will see that most of the time we do things just to please others, just to be accepted by others, rather than living our lives to please ourselves. That is what has happened to our freedom.
Pg 99
Chapter 7: The New Dream: Life can be very easy when love is your way of life. only love has the ability to put you in a state of bliss. It is entirely possible to live this way all the time. Once you feel what it means to live in a state of bliss, you will love it. you will know that heaven on earth is truth—that heaven truly exists. Pg 131
Prayers: Today, Creator of the Universe, help me to keep the love and the peace in my heart and to make that love a new way of life, that I may live in love the rest of my life. Amen. Pg 141
So I found this book to be enlightening and frustrating. The enlightening: the Truths it contains are astoundingly obvious; so obvious in fact, I feel like I should have seen them all along. But as I am deaf and blind to my own ways I missed them. I don't agree with everything the author writes – he seems too "me" focused and not enough on "other people" or charity. I also don't agree when he said it wasn't necessary to worship the Virgin Mary, Christ or Buddha (and other beings like them) because I believe those figureheads are essential for most people to understand spirituality in a meaningful way. But the essence of the four agreements rings very true to me.
The frustrating: the writing itself is annoying. I feel like the book really needs to be a picture book because the phrasing, the constant defining of words in extremely simple terms and the repetition of ideas and words and definitions and phrases is beyond frustrating. It is as if he believes his reader to be only able to read and comprehend on an elementary school age level. If I didn't believe he thought it to be the best way to communicate his ideas, I would assume (& I really shouldn't make any assumptions) that he is dumbing down his message because he secretly thinks adults are basically children in giant clothes.
But regardless, the message is clear and I like the essence of the Truths he espouses.
Rating 3 out of 5 paws because the writing was so simple it was almost impossible to read. (Even if I did get 7 pages of quotes out of it!)
Reviewer: Jack
click on the image for the author's website!