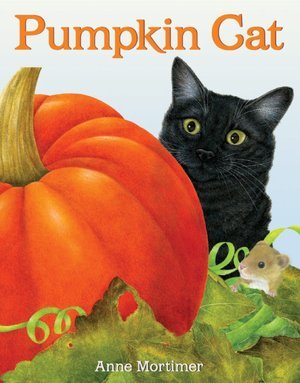 All of these books have three things in common: 1. they are picture books; 2. they are all about cats; and 3, they are illustrated by Anne Mortimer. I think she has become my new favorite artist!
The Lighthouse Cat
Sue Stainton, author
Katherine Tegen Books, an imprint of HarperCollins Publishers, 2004
An old lighthouse sits on the coast with an old man as its keeper. He lives there by himself,
walking up and down the light house many times a day keeping the candles lit in the lantern of the lighthouse. Once a week (if the sea is friendly) he gets a boat of supplies from the fishing village. One week he finds a stowaway on board – a grey tabby cat that he names Mackerel. Mackerel keeps the lighthouse keeper company and during a storm one night, he saves a boat from crashing on the rocks when the light goes out.
There is also a page on historical lighthouses of England!
Another beautifully illustrated book by Anne Mortimer. She puts such detail in all of her paintings. She must paint each strand of fur on the cats individually – such detail makes the pictures realistic, actually better than that. They could come alive with the cats leaping off the page! This is a book I wish we could add to our collection.
Rating: 4 paws because Mackerel looks like Agnes, plus just as plush and velvety!
Pumpkin Cat
Anne Mortimer, Author and illustrator!
Katherine Tegen Books, an imprint of HarperCollins Publishers, 2011
In this book a black cat (like me!) wonders how pumpkins grow. A little brown mouse shows
him how. The plant the seed in a pot, then later, they plant them outside. As the weather warms and the plants grow the cat and mouse watch as the bees pollinate pumpkins, build a scarecrow to keep the crows away until, finally it is time for harvest. The big beautiful orange pumpkin is chosen and mouse has one more surprise for cat: he carves it into a jack-o-lantern (with a cat face, of course!) and wishes everyone a Happy Halloween.
The illustrations are wonderful; another Anne Mortimer beauty. The text is easy for early readers and the story is entertaining as well as educational. Be warned: if you read this book in spring, you'll find yourself wanting to plant pumpkins!
Rating: 4 paws because the black cat is almost as beautiful as I am!
I Love Cats
Sue Stainton, author
Katherine Tegen Books, an imprint of HarperCollins Publishers, 2007
I Love Cats is basically a book of all types of cats and a showcase for Anne Mortimer's artwork.
Perfect for early readers, the cats are matched by descriptive terms, for instance, a thin cat is labeled "Thin cats."
One of my favorites is the "angry cat" because the illustration shows a cat bearing its fangs. I also like the "cats that think" because the cat has some books. A cute book to read to toddlers and for older toddlers to read to you!
Rating: 3 paws for all the many varied cats described!
A Kitten's Year
Nancy Raines Day, author
HarperCollins Publishers, 2000
The simple text leads the reader through the year of a kitten's life. Starting in January, the
kitten peeks at a snowcat, plays with toys in February, stalks fish and frogs in March and so, with each month until December where she lays down to dream and wakes up a cat. 
The illustrations are amazingly detailed and simply beautiful. We borrowed this book (as well as the others) from the library because of the illustrator, Anne Mortimer, and we were not disappointed.
This is one book we wouldn't mind owning!
Rating : 4 paws for showing the sweet, adorable side of a kitten (and glossing over all the craziness they exhibit from time to time!).
 Reviewer: Simon
 Anne Mortimer
  Sue Stainton
  Nancy Raines Day