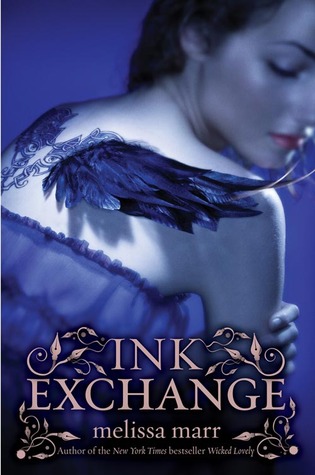 Ink Exchange
Melissa Marr
HarperTeen, an imprint of HarperCollins publishers
This second book in the series takes on a sinister note as the reader is introduced to the ways Dark Court faeries. With their penchant for war and blood, the Court has grown weaker in the new found peace between the Summer King and Queen and the New Winter Queen. Under the previous Winter Queen, Beira, the court thrived in the wake of her cruelty. But now, the dark fey are starving for lack of food and drink and it is up to Irial, the Dark Court King, to find a way to feed them or go to war. Some of his court want war, but he wants to try another way by linking them with mortal emotions through an ink exchange – tattoos  that make mortals conduits for the emotions the faeries feed off of.
 Main characters –
Leslie, a mortal girl, damaged by violence, a friend of Aislinn and under her protection is nonetheless stolen away by Irial in an ink exchange that makes her his own.

Irial, the Dark Court Faery King, is changed by the ink exchange more than he cares to admit and becomes increasingly reluctant to lead his court.

Niall, advisor to Keenan, Summer King, protector of Leslie begins to care for her as he has cared for no mortal in centuries. His desire for her will change his life forever.
Secondary characters –
Rabbit, a tattoo artist, who performs the ink exchange has secrets of his own.

Gabriel, leader of the Dark Court Hounds and enforcer of the King's edicts.

Bananach, an avian faery who longs for war and seeks to overthrow Irial.
Other characters –
Keenan, Aislinn and Seth are really background material here as the Dark Court is the center of all the action
I read the book in two marathon sessions; it was that good. Perhaps it was because of the darker nature of the story, but I found it more enthralling than Wicked Lovely. The story was paced well, the mystery of the ink exchange, why it was so important and what it did to both Leslie and Irial was carefully constructed over time. I appreciated the way the author did not write about the violence that was integral to the story but showed only its aftermath and did so in a delicate yet explicit way. Truly well written.
My rating: 4 paws for story, characters and the darkness.
 Reviewer: Laura
  Melissa Marr
Click on photo for courtesy link.