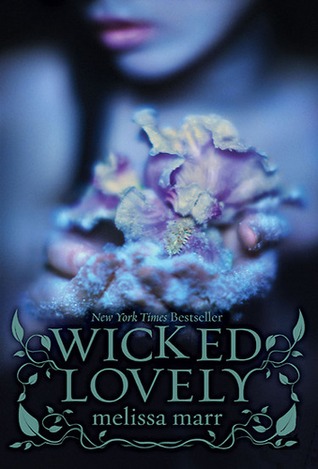 Wicked Lovely
Melissa Marr
HarperTeen, an imprint of HarperCollins Publishers, 2007
I first got interested in the Wicked Lovely series after reading a book of short stories by the author where she expanded on her already existing characters. I enjoyed Faery Tales and Nightmares, which lead me to the original series. The world created by Ms Marr is rich with characters, color, folklore and fantasy. It is a story of faeries and mortals and how they interact with one another. Keenan, the King of the Summer faeries has been on a 900 year search for his queen wherein he will come fully into his power. His mother, Beira, the Queen of Winter Faeries is out to stop him because it will facilitate her defeat. Their struggle is epic and bloody.
Main characters –
·          Aislinn—a rare mortal who sees faeries and the object of Keenan's desire, "Her already-pale skin blanched when he reached out to touch her, making her look like a wraith framed by her straight blue-black hair. Delicate. It made her seem more vulnerable, easier to approach. Or maybe that was just because she was so slight."
·         Seth—a mortal who is the object of Aislinn's desire, "The streetlights made him look a bit intimidating, illuminating the bars in his eyebrows and the ring in his lower lip. His blue-black hair fell over his face when he moved, like tiny arrows pointing to pronounced cheekbones."
·         Keenan—the irresistible Summer  Faery King, "whenever he came near, she could smell wildflowers, could hear the rustle of willow branches, as if she were sitting by a pond on one of those rare summer days."
·         Donia – the Winter Girl, keeper of winter's chill, with "long white hair, streaming out like spirals of smoke. Her lips were blue—not lipstick blue, but corpse blue."
Secondary characters –
·          Beira—the Winter Queen and Keenan's mother; she is unbelievably cruel and vindictive
·         Tavis & Niall— protectors and advisors to the Summer King for 9 centuries
·         Grams—Aislinn's grandmother who can also see faeries
Other characters –
·          There are numerous types of fey that I won't list here
·         The Summer Girls—former mortal girls who were chosen by Keenan but turned out not to be his queen.
Overall, I enjoyed the book immensely. I liked how Aislinn was written – strong, independent, confused about what was happening to her but not overly emotional.  In some books the female teen protagonist is so wishy-washy with her emotions about the man she likes or doesn't like and it drives me crazy. I want to yell at them "Just choose for goodness sake!" Thankfully,  Aislinn is not written like this. She is very firm in whom she loves and what she wants in her life. She negotiates for her future and realizes that Keenan needs her more than she needs him and she has all the power.
My rating: 4 paws for Aislinn, but 3 paws for the overall story
Reviewer: Laura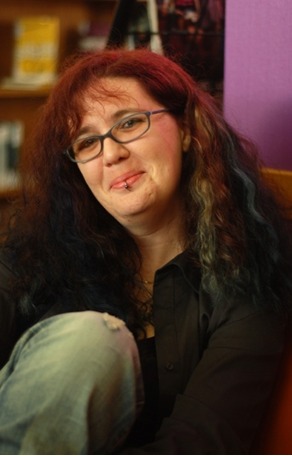 Biography:
Melissa grew up believing in faeries, ghosts, and various other creatures. After teaching college lit for a decade, she applied her fascination with folklore to writing.
Melissa writes fiction for adults, teens, and children. Her books have been translated into 28 languages to date and been bestsellers in the US (NY Times, LA Times, USA Today, Wall Street Journal) as well as various countries overseas. She is best known for the Wicked Lovely series for teens and Graveminder for adults.
Wicked Lovely was her first novel; it was simultaneously released in the US and UK by HarperCollins in 2007 (with translation rights also sold in twenty-some countries). It debuted as a NY Times Bestseller and evolved into a multi-book series with myriad accolades and international bestseller lists.