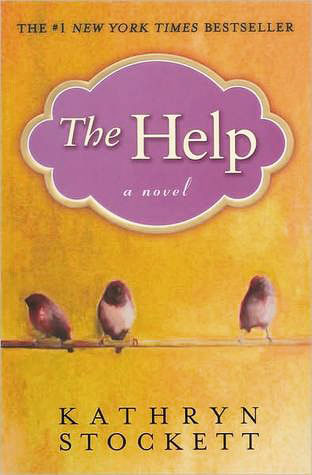 The Help
by Kathryn Stockett
Amy Einhorn Books, published by G. P. Putnam's Sons, 2009
The Help takes place during the early 1960's in Jackson, Mississippi when segregation was in full force (btw, my human was born in Jackson!). It chronicles the journey 3 women take on their way to personal freedom. Aibileen is set free from the grief she has suffered over the loss of her son, Minny from an abusive husband, and Skeeter from an oppressive and suffocating predestined life by her mother.
Main characters
Aibileen, maid to Elizabeth, surrogate mother to "Baby Girl" and "Lil Man", Elizabeth's children.

Minny, maid to Celia, with a mouth on her that runs of its own accord.

Skeeter, recently back from college with an actual degree instead of the 'MRS.' degree girls of this era went to college for.
 Secondary characters
Hilly, self-styled leader of society in Jackson who went to college and after two years earned a MRS degree, friend of Elizabeth and sometime friend to Skeeter

Elizabeth, inattentive mother of Mae Mobley and Ross, subordinate friend of Hilly, occasional friend to Skeeter

Mae Mobely, precocious young child in Aibileen's care

Celia, shunned by the social group she is so desperate to be a part of, suffers alone in a country house while her husband is at work until she hires Minny

Stuart, son of a State Senator and Skeeter's sometime beau

Mother, Skeeter's mom who expects her only daughter follow tradition: marry well, raise children and not work

Constantine, whom we never really meet but is important to the story and was Skeeter's family's maid
The story is told from the three main character's viewpoint, each in her turn. I really liked each character has a distinct voice and it comes out in the writing. I could hear each person's thoughts and voices so well it was like they were standing next to me telling the story. The author does not shy away from reality of the day, both the good and the bad and doesn't denigrate either race, she simple tells the story while stating the sad fact of Jim Crow laws and really lets the reader take from it what they will.
Rating: 3 paws for a beautiful, well-told story of a microcosm city in the 1960's American South.
Reviewer: Agnes
Courtesy: Goodreads
 Kathryn Stockett was born and raised in Jackson, Mississippi. After graduating from the University of Alabama with a degree in English and creative writing, she moved to New York City, where she worked in magazine publishing for nine years. She currently lives in Atlanta with her husband and daughter.