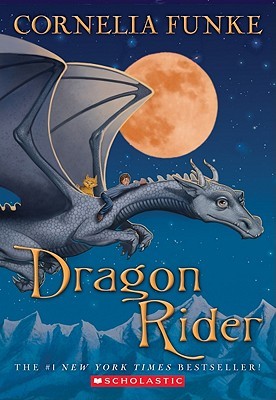 Dragon Rider
By Cornelia Funke
Chicken House Publishing,  Published September 2004 by The Chicken House (first published February 1st 1997)
This is a story of dragons, a brownie and a small boy who go on a spirited adventure across the world. I don't typically like to read books where animals talk but this one is an exception. Maybe I was coerced by the author – she is one of my favorites – but I didn't find it too distracting.
One of the last colonies of dragons lives in a beautiful valley trying to keep hidden from encroaching civilization. One day a rat tells the dragons that he has heard some humans are coming to take over the valley. All of the dragons freak out and don't know what to do. The dragon-elder tells them the story of 'The Rim of Heaven', the Home of all Dragons, where they would be safe forever from humankind. The dragons say it is hopeless and they are doomed. But one young dragon, Firedrake, decides to find this hidden home so that he and his fellows may be safe forever from people. Along the way to find the Rim of Heaven Firedrake meets other fantastical creatures, gets help from humans, and fights to the death the dragon's ultimate nemesis, Nettlebrand.
Firedrake – a young silver dragon who hasn't had much experience with life but is willing to find the Rim of Heaven – "In any case I'm tired of living in hiding, never flying outside this valley." He turned to the others. "Let us look for the Rim of Heaven. Come on, let's set out today." Pg 15
Sorrel – a brownie and friend of Firedrake. She is described as having cat-like features and loves mushrooms. – "If you happen to pass any mushrooms think of me!" pg 107
Ben – an orphan boy who becomes the Dragon Rider and helps save the dragons. – "I'll take you there," he said. "I'll give you some of my clothes to wear, and then I can smuggle you past somehow. I've been living here a long time. I know all the back alleys."  Pg 31
Nettlebrand – a golden dragon who viciously attacked and ate many dragons before they went into hiding. – "Come on out! I want to hunt you all together. I want to see you scatter like a flock of frightened ducks when I bring one of you down." Pg 482
Twigleg – a homunculus (a fully formed miniature human being) who is Nettlebrand's armor cleaner turned spy. – "He was right. A dragon did land here. Silver as moonlight and much smaller than you, but definitely a dragon." Pg 96
Gravelbeard – a mountain dwarf who wants any gold he can find. – "Dragons can scent treasure," he whispered. "Everyone know that." Pg 78
Professor Greenbloom – an adult human who answers a lot of questions and helps out Firedrake in his quest – "You see, we humans don't seem able to believe that something is real until we've touched it." Pg 130
*Spoiler Alert*
Firedrake does find the Rim of Heaven and ultimately saves the day and the other dragons. Sorrel finds distant brownie relatives and Ben ends up with a human family to love and be loved by. All in all, the book was good for light reading. No emotional reaction from me but I did enjoy reading it.
Reviewer: 
Even though my rating is 2 paw prints and that usually means donate to a thrift store, we are going to keep it because we collect Cornelia Funke books. 
Cornelia Caroline Funke is a multiple award-winning German author of children's and YA fiction. She is best known for her Inkheart trilogy. The Inkheart books have gained a variety of attention, and critics have praised Funke as the "German J. K. Rowling". Her books are very popular in her native country, and many have now been translated into English. Her work fits mainly into the fantasy and adventure genres. She currently lives in Los Angeles, California.